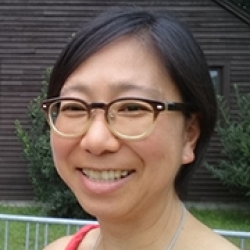 Tomoko Komada
Professor of Chemistry
Marine Biogeochemistry
Phone: (415) 338-3748
Email: tkomada@sfsu.edu
Biography
My research focuses on understanding the organic carbon cycle, with emphasis on the processes taking place at the land-ocean margin. I utilize natural abundance radiocarbon (14C), in conjunction with the stable isotope 13C, to investigate the sources, cycling, and fate of various organic carbon pools in the environment. Topics of interest include: sediment biogeochemistry and the significance of coastal benthic processes in organic matter dynamics, composition of organic matter suspended in rivers and its fate in the ocean, and the role of organic-mineral associations in organic matter degradation and preservation.
Selected Papers
Abdulla H. A., Burdige D. J., Komada T. (in press) Abiotic formation of dissolved organic sulfur in anoxic sediments of Santa Barbara Basin. Organic Geochemistry
Richard H., Carpenter E. J., Komada T., Palmer P. T., Rochman C. M. (2019) Biofilm facilitates metal accumulation onto microplastics in estuarine waters. Science of the Total Environment 683, 600-608.
Fox C. A., Abdulla H. A., Burdige D. J., Lewicki J. P., Komada T. (2018) Composition of dissolved organic matter in pore waters of anoxic marine sediments analyzed by 1H Nuclear Magnetic Resonance Spectroscopy. Frontiers in Marine Science 5, 172.
Abdulla H. A., Burdige D. J., Komada T. (2018) Accumulation of deaminated peptides in anoxic sediments of the Santa Barbara Basin. Geochimica et Cosmochimica Acta 223, 245-258.