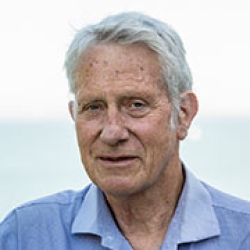 Roger Bland
Professor Emeritus, Physics and Astronomy
Underwater Acoustics
Phone: (415) 338-2433
Email: bland@stars.sfsu.edu
Biography
I am interested in applications of acoustic techniques to make measurements and observations in the ocean, the Bay, the Estuary, and California rivers.  I have analyzed acoustic data from Pioneer Seamount for properties of blue whale calls, detected production of solitary waves by ferry boats in San Francisco Bay, and studied the net discharge of fresh water from the Central Valley into San Francisco Bay.  Currently I am recording underwater sounds from the RTC research pier, and the recordings of the mating call of the Plainfin Midshipman are being studied in collaboration with a colleague in British Columbia.  These sounds can be found online in near-real time at http://bayacoustics.sfsu.edu.  I am also using an X-band marine radar to record wave patterns at a site of major coastline erosion, on Ocean Beach, San Francisco.  Data from this study is on line at http://abdus.sfsu.edu/oceanbeach/html/.
Selected Publications
Smit, P. B., R. Bland, T. T. Janssen, and B. Laughlin (2016), Remote sensing of nearshore wave interference, J. Geophys. Res. Oceans, 121, 3409–3421, doi:10.1002/2016JC011705.
Hoffman, Michael D., Newell Garfield, and Roger Bland (2010), "Frequency synchronization of blue-whale calls near Pioneer Seamount," Journal of the Acoustical Society of America 128, 490 (2010).
Bland, Roger, and Newell Garfield, "One Year on Pioneer Seamount," in Ecosystem Observations for the Monterey Bay National Marine Sanctuary, 2002, a publication of the NOAA Monterey Bay National Marine Sanctuary, 299 Foam Street, Monterey, Calif., 93940.
Vuosalo*, Carl O., Craig Huber *,  Michael D. Hoffman*, Newell Garfield, and RogerBland, "Analysis of Acoustic Signals from Ship Traffic at Pioneer Seamount," Poster presented at the San Francisco meeting of the American Geophysical Union, December 8, 2002.
Neuman*, D.G., E. Tapio *, D. Haggard*, K.E. Laws* , and R.W. Bland, "Observation of Long Waves Generated by Ferries," Canadian Journal of Remote Sensing 27, 361 (2001).