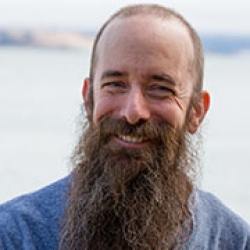 Matt Ferner
Adjunct Professor of Biology and Research Coordinator, SF Bay NERR
Marine Benthic Ecology
Phone: (415) 338-3724
Email: mferner@sfsu.edu
Biography
I am broadly interested in how physical and chemical aspects of the environment influence biological communities. I currently use a combination of laboratory and field approaches to test hypotheses about how water motion affects marine invertebrates and their habitats. Topics of investigation include: 1) causes of temporal and spatial variation in benthic habitats and environmental stressors; 2) mechanisms and consequences of organism exposure to environmental stressors; 3) sensory interactions among marine invertebrates. One goal of my research is to understand how abiotic factors exert selective pressure on organisms and ultimately help to drive ecological and evolutionary patterns. I also serve as Research Director for the San Francisco Bay National Estuarine Research Reserve, where I strive to help connect applied science to the management of tidal wetlands and other coastal ecosystems.
Selected Papers
Hodin J, Ferner MC, Heyland A, Gaylord B (in press). I feel that! Fluid dynamics and sensory aspects of larval settlement across scales. In Ecology and Evolution of Marine Invertebrate Larvae. Eds. Carrier, Reitzel, Heyland. Oxford University Press.
Bible J, Cheng B, Chang A, Ferner MC, Wasson K, Zabin C, Latta M, Sanford E, Deck A, Grosholz E (2017) Timing of stressors alters interactive effects on a coastal foundation species. Ecology 98: 2468–2478.
Cheng BS, Chang A, Deck A, Ferner MC (2016) Atmospheric rivers and the mass mortality of wild oysters: insight into an extreme future? Proceedings of the Royal Society B 283: 20161462.
Raposa KB, Wasson K, Smith E, Crooks JA, Delgado P, Fernald SH, Ferner MC, Helms A, Hice LA, Mora JW, Puckett B, Sanger D, Shull S, Spurrier L, Stevens R, Lerberg S (2016) Assessing tidal marsh resilience to sea-level rise at broad geographic scales with multi-metric indices. Biological Conservation 204: 263–275.