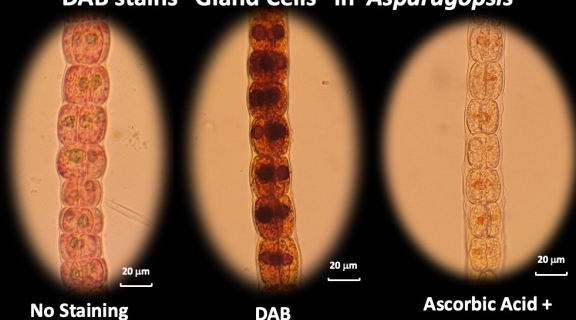 Rosenberg Institute Seminar Series - Zheng-Hui (Zachary) He
Wednesday, September 27
Event Time
03:30 p.m. - 04:30 p.m.
Overview
Understanding the Cellular Manufacturing Sites for Bromoform in Seaweeds
Zheng-Hui (Zachary) He, Professor of Biology, SF State
Seaweeds produce many different compounds that serve as powerful prebiotics and nutraceuticals.  One class of small molecules produced in seaweeds is bromoform, which is proven effective in reducing methane emissions in ruminants when bromoform-containing seaweed is used as a feed supplement. How seaweeds retain bromoform is currently not understood. Based on the known pathway of bromoform biosynthesis, we hypothesize that bromoform is made in the cellular organelle peroxisome. We set out to identify local seaweeds with potential high bromoform retention by studying their peroxisomes. Our results suggest the structures previously known as "gland cells" in Asparagopsis are specialized large peroxisomes. The morphology and behavior of peroxisomes are comparatively analyzed between Asparagopsis and local CA coast seaweeds under different growth conditions such as temperature, light, and salinity.  Our studies aim to develop approaches that can provide bromoform-rich seaweeds locally. 
Zheng-Hui (Zachary) He, Professor of Biology at SFSU since 1998. He was born and raised in a remote farming village in China. He obtained his Ph.D. in Biology from the University of Virginia. His research focuses on understanding the life secrets of photosynthetic organisms, including land plants and ocean seaweeds. He loves plants, and his major research contributions include the discoveries of two key gene families called WAK and RUS in plants. He was awarded several major federal grants, including the NSF CAREER award. He plans to use the tools and approaches he learned in plant biology to study seaweeds.