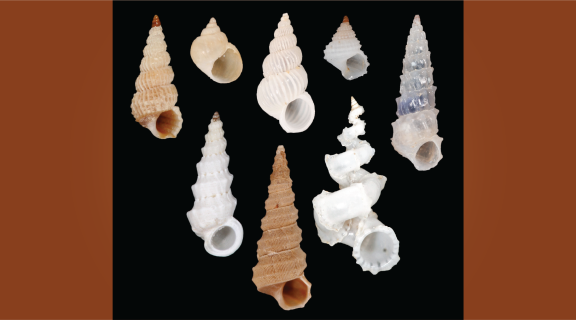 Rosenberg Institute Seminar Series - Tricia Goulding
Wednesday, September 06
Event Time
03:30 p.m. - 04:30 p.m.
Overview
Diversification from the deep sea to shallow reefs: using museum collections to resolve the evolutionary relationships of wentletraps
Tricia Goulding, Postdoctoral Researcher, Smithsonian National Museum of Natural History
The Epitoniidae is a family of marine snails with an evolutionary history dating back to at least the early Cretaceous. Approximately 785 species of extant epitoniid are currently recognized, but delimiting genera and understanding evolutionary relationships has remained difficult due to convergence. With colleagues at the National Museum of Natural History, I have sequenced DNA from museum specimens, including numerous individuals collected during biodiversity expeditions organized by the Muséum national d'Histoire naturelle. Using a combination of approaches, I have sequenced DNA from more than 1,100 wentletraps, most of which belong to species that had not been previously studied in a phylogenetic framework. Notably, this dataset includes representatives of many taxa from the mesophotic and deep-sea, which are rare and difficult to sample. These data give us our first glimpse into understanding the evolutionary relationships of wentletraps from the intertidal to the deep-sea, and the evolution of wentletrap shell morphology. 
Tricia Goulding's research focuses on the species diversity and evolutionary relationships of invertebrates. She did her Master's degree at the Estuary and Ocean Science Center at SFSU and her Ph.D. at Pennsylvania State University. Her doctoral research was the foundation for a taxonomic revision of a family of mangrove slugs, which included the description of 25 new species and 6 new genera. Tricia joined the Bishop Museum as a postdoctoral researcher to investigate small Pacific Island land snails, and then went on to a postdoctoral fellowship to study wentletraps using genomic techniques at the Smithsonian National Museum of Natural History.