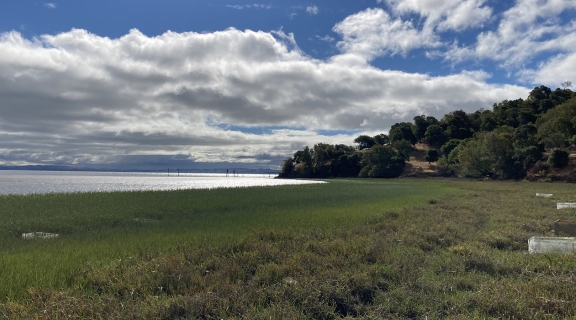 Rosenberg Institute Seminar Series - Julie Gonzalez
Wednesday, September 13
Event Time
03:30 p.m. - 04:30 p.m.
Overview
Julie Gonzales, Research Scientist, University of California, Davis
Evaluating Assessment Strategies and Effects of Sea-level Rise and Biological Invasions in Tidal Marshes
Please attend in person at the BCC.
Abstract 
Amidst escalating global environmental challenges, understanding ecosystem adaptation and successful habitat restoration gains urgency. The first part of this work explores the interplay between sea-level rise (SLR) and invasive species on a tidal marsh foundation species (Spartina sp.). We found that Spartina responds negatively to invasive crabs and increased inundation. Contrary to our hypotheses, no interactive effects were found, highlighting the importance of considering sequential and latent stressor impacts. The next section investigates effects of SLR and invasive species on trophic interactions in tidal marshes. Increased inundation influenced species responses, which has significant implications for aquatic-terrestrial connections given future SLR. Lastly, we examined habitat restoration's ecological success and how it correlates with public perception, emphasizing the need to integrate societal values and improve stakeholder communication. Overall, findings underscore the need for holistic restoration and adaptation strategies, intertwining ecological and societal aspects, while recognizing intricate stressor interplay, pivotal for safeguarding these ecosystems in a changing world. 
Bio 
Dr. Gonzalez is broadly interested in understanding the ways in which human activities influence and are influenced by the ecosystems we inhabit. Her research focuses on trophic interactions in tidal marshes, particularly in the context of future sea-level rise impacts, and understanding local community perspectives to improve habitat restoration outcomes in the eyes of multiple stakeholder groups. She has a master's in marine science from the Estuary & Ocean Science Center, SFSU, and a Ph.D. in Ecology from the University of California, Davis, during which she was a Margaret Davidson Fellow with the SF Bay NERR.