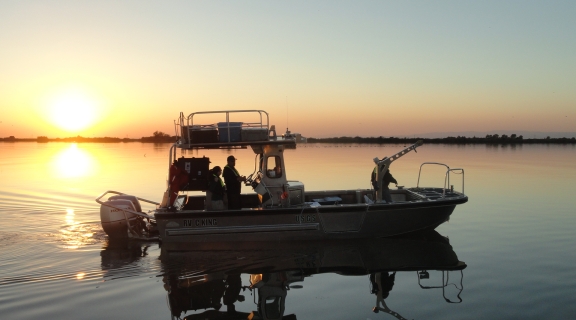 Rosenberg Institute Seminar Series - Brian Bergamaschi
Wednesday, November 30
Event Time
03:30 p.m. - 04:30 p.m.
Overview
Response of the Delta and Estuary to a major change in wastewater nutrient loading
Brian Bergamaschi, Research Biogeochemist, US Geological Survey
April of last year, the largest wastewater treatment plant discharging waste into the Northern Sacramento San Joaquin Delta completed a >$2B upgrade to its treatment processes. This resulted in a large reduction of total nitrogen loading to the Delta and a change in the chemical form of that nitrogen from mostly ammonium to exclusively nitrate. Many researchers suggest that ammonium can be deleterious for aquatic food webs, which was a rationale for the upgrade. So what happened? We will show how nutrient species concentrations and phytoplankton abundances as well as their spatial distributions in the Delta compare before and after the wastewater treatment plant modifications. Although it is too early to assess if any long-term ecological changes resulted from this change, we will explore how observed differences may affect Delta and Estuary aquatic food webs. 
Brian Bergamaschi is a chemical oceanographer who studies carbon and nutrient cycling in aquatic systems in rivers, wetlands, estuaries, and coastal environments, tying those studies to issues such as harmful algal blooms, beneficial algal blooms, mercury cycling, local and global carbon budgets, and other related topics. His research emphasis is on developing quantitative techniques for measuring rates of biogeochemical processes in situ in dynamic systems. But – mainly – he just likes to mess around on boats. He invites anyone interested in aquatic biogeochemistry to join him and his group in upcoming field work – just drop him a note at bbergama@usgs.gov.