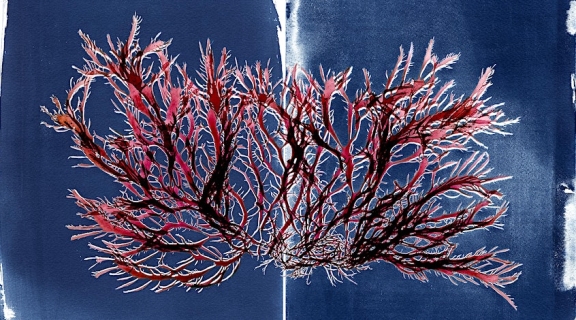 Art & Algae with Josie Iselin
Saturday, October 07, 2023
Event Time
11:00 a.m. - 03:30 p.m. PT
Location
BCC, Estuary and Ocean Science Center
Overview
Josie Iselin is an artist, author and designer who has been telling seaweed and kelp stories for over a decade. Her two books An Ocean Garden: The Secret Life of Seaweed (2014, reprint 2023) and The Curious World of Seaweed (Heyday, 2019), tap her profound understanding of seaweed's natural history and her deep connections within the seaweed science community. Both books have won the Tiffany Award for algal communications by the Phycological Society of America. Her work is an extraordinary expression of both art and science.
Josie teaches in the School of Design at San Francisco State University, inspiring the integration of art, science, and storytelling through portfolio design. Josie directs content development for the Above/Below campaign and is the lead author of the campaign's webstory, The Mysterious World of Bull Kelp, to be published in November 2023.
Art & Algae Cyanotype Workshop - FULL
This workshop introduces students of all ages to cyanotype printing (an alternative photographic technique) using Josie's vast collection of dried seaweed specimens as image-making material. Josie will introduce us to her work and how she became so entwined with the fascinating world of seaweed. You will be inspired by algae's diverse biology and ecology, learn to identify a variety of green, red, and brown seaweed, and become more aware of the importance of a healthy intertidal zone and how it interconnects with the health of the planet while you create beautiful blue and white cyanotypes using the power of the sun and Josie's collection of seaweed specimens as image-making material.
Known for its distinctive blueprint-like images, this simple, camera-less photographic technique is the same process used by pioneering, curious, and innovative botanist and photographer Anna Atkins (British, 1799-1871) to create images for the first book ever to be illustrated with photographic plates, Photographs of British Algae: Cyanotype Impressions, published in 1843. Want to bring your own specimens to identify and print with? Please do! The end results are joyous and revelatory; while making art, participants have learned about an ocean ecology they haven't thought much about before.
Lecture - An Artist's Journey into Science of Seaweed & Stories of the Kelp Forest
Josie Iselin will take us on her journey from making algal imagery using her flatbed scanner, to writing and designing various books on seaweed, to her current project as partner of Above/Below, a collective committed to telling kelp forest stories. She is currently building a comprehensive website about bull kelp, a monumental and collaborative task that is almost ready for launch!
Note: this lecture will take place twice - sign up for the date that works for you.