About Bay Shore Studies
Since its beginning in 1974, the Bay Shore Studies program has provided outstanding learning opportunities for third through fifth grade students. The program uses the Bay Shore at the Richardson Bay Audubon Center & Sanctuary as a model ecological community and explores themes such as interdependent relationship in ecosystems, life cycles, structure and function, food webs, energy cycles, human impact and adaptation. This  two hour field trip is a motivating and valuable learning experience where students participate in a variety of activities from observing live crabs to measuring environmental conditions. Trained volunteers help small groups of students explore bay shore habitat and use science practices to ask questions, plan investigations, collect and compare data, construct explanations, engage in argument from evidence, and obtain, evaluate and communicate information.
Bay Shore Studies is more than just a field trip. Teachers are provided with a comprehensive Teacher's Guide explaining Bay ecology and conservation, defining concepts and providing strategies for fun and practical classroom activities specifically designed to introduce these concepts to students and prepare them for their field trip.
Each student receives an accompanying Student Handbook which introduces basic concepts and vocabulary, explains the ecology of organisms they may see on their field trip, and provides data sheets for recording their observations and measurements. These materials and activities, as well as the field trip itself, support the Next Generation Science and Common Core Standards.
Each two hour field trip is limited to no more than 35 students and costs $250. Limited fee waivers and transportation assistance are available for qualifying schools.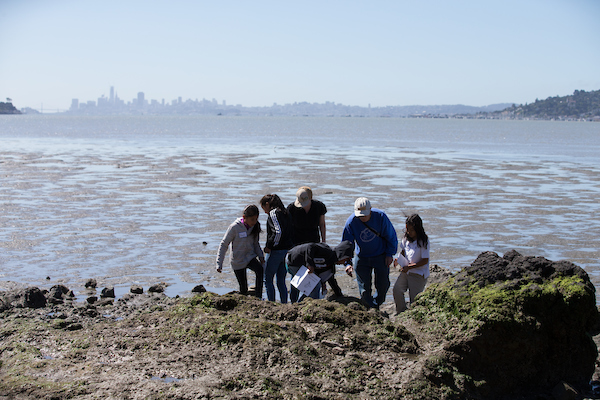 Inspire children to protect San Francisco Bay!
Become a Bay Shore Studies Docent! Since 1974, Bay Shore Studies docents have been leading students on their "best field trip ever." Join us to continue this important community tradition of environmental education! Become a Bay Shore Studies Docent! Contact Erin Blackwood if you are interested or have questions about volunteering.