Scientific Diving
The San Francisco State University Scientific Diving Program was created in the 1990s to support submerged science and education. Presently, the program has grown to encompass over 20 graduate and undergraduate students conducting thesis work and several faculty who are involved in marine and estuarine research. Our research divers work at sites ranging from the blackwater shallows of San Francisco Bay, the kelp forests of Monterey and the numerous California Channel Islands.
The Scientific Diving Program is open to actively enrolled SF State students, faculty and staff and is overseen by the SF State Diving Control Board (DCB) and administered by the SF State Diving Safety Officer (DSO). The DSO maintains oversight and operational control of all scientific diving operations and reports to both the DCB and the Director of the University Field Station in Tiburon, California. The DSO conducts advanced diver training, dive support, and operational supervision for all SF State scientific diving operations.
SF State's diving safety program is currently overseen by Moss Landing Marine Labs.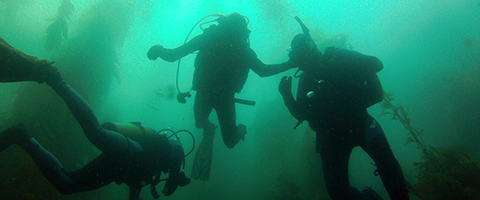 SFSU and WebDiver
SFSU is now using webdiver to monitor dive activity, certification dates and dive medical reports. All active SFSU Scientific Divers must have an account in Webdiver.
About The American Academy of Underwater Sciences
SFSU is a member of the American Academy of Underwater Sciences (AAUS), adheres to AAUS standards for the conduct of scientific diving operations and diver training and fully supports diving reciprocity between current AAUS member organizations.