From casual to formal, the unique setting of the BCC brings groups together for a truly collaborative and immersive meeting experience. From exclusive board meetings, strategic planning sessions to corporate retreats, the BCC space fosters unparalleled productivity.
Parking and coffee service is free and other amenities are provided. Attendees can enjoy indoor dining or outdoor picnic areas for their meals.  Catering options in the area offer some of the finest fare in the entire Bay. See our Meeting Services page for more information about amenities and catering options.
San Francisco Bay Hall
The largest of our spaces, SF Bay Hall is a carpeted 140-seat main hall for large meetings or lectures.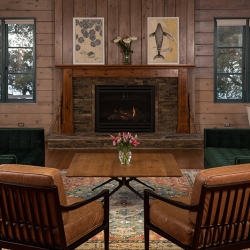 Hearth Lounge
The most casual and intimate of our spaces, the Hearth Lounge works well for breakout sessions, small group brainstorming and informal gatherings.  The furniture can also be removed and the room can be set up boardroom style for 20 people.  The fireplace is gas and works with the flip of a switch.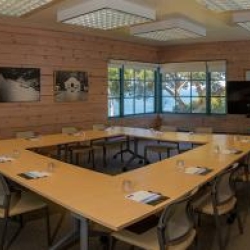 North Bay Room
The North Bay Room can accommodate up to 40 participants, depending on the meeting layout.