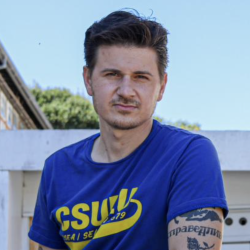 Adam Paganini
IMES Program Coordinator
MS Marine Biology
Phone: (415) 338-3514
Email: paganini@sfsu.edu
Biography
Adam is the program coordinator for the Interdisciplinary Marine & Estuarine Sciences (IMES) graduate program, a master of science degree in marine sciences funded by a National Science Foundation grant. He directs activities to network between PIs and core participants, faculty, SF State administration, and external partners. Adam is involved in coordination of courses, recruiting and advertising, evaluation of applications, assisting faculty advisors, program evaluation and other aspects of the project as they arise. Adam frequently communicates with program participants about their current programmatic needs as well as recruiting and advising applicants. 
Adam graduated from the EOS Center in 2013 with a Master of Science degree in Marine Biology with an emphasis on environmental physiology. Bringing new findings to light, he garnered attention with studies that interpret the physiological sensitivity crabs have to global climate change. Adam's work on ocean acidification has been featured on the cover of peer reviewed journals.
Adam also worked with Dr. Karina Nielsen to deploy the novel "MApCO2" buoy into the SF bay directly in front of the EOS Center. The buoy measures carbon dioxide, along with many other parameters of scientific importance, and transmits the real-time data to the public. 
Selected Publications:
Paganini A.W., Miller N.A., Stillman J.H., (2014) Temperature and acidification variability reduce physiological performance in the intertidal zone porcelain crab Petrolisthes cinctipes. Journal of Experimental Biology 217, 22: 3974-3980
Paganini A.W., Kimmerer W.J., Stillman J.H. (2010) Metabolic responses to environmental salinity in the invasive clam Corbula amurensis. Aquatic Biology 11: 139-147
Stillman J.H. & Paganini A.W. (2015) Biochemical adaptation to ocean acidification. Journal of Experimental Biology 218, 12: 1946-1955
Miller N.A., Paganini A.W., Stillman J.H. (2013) Differential thermal tolerance and energetic trajectories during ontogeny in porcelain crabs, genus Petrolisthes. Journal of Thermal Biology 38: 79-85